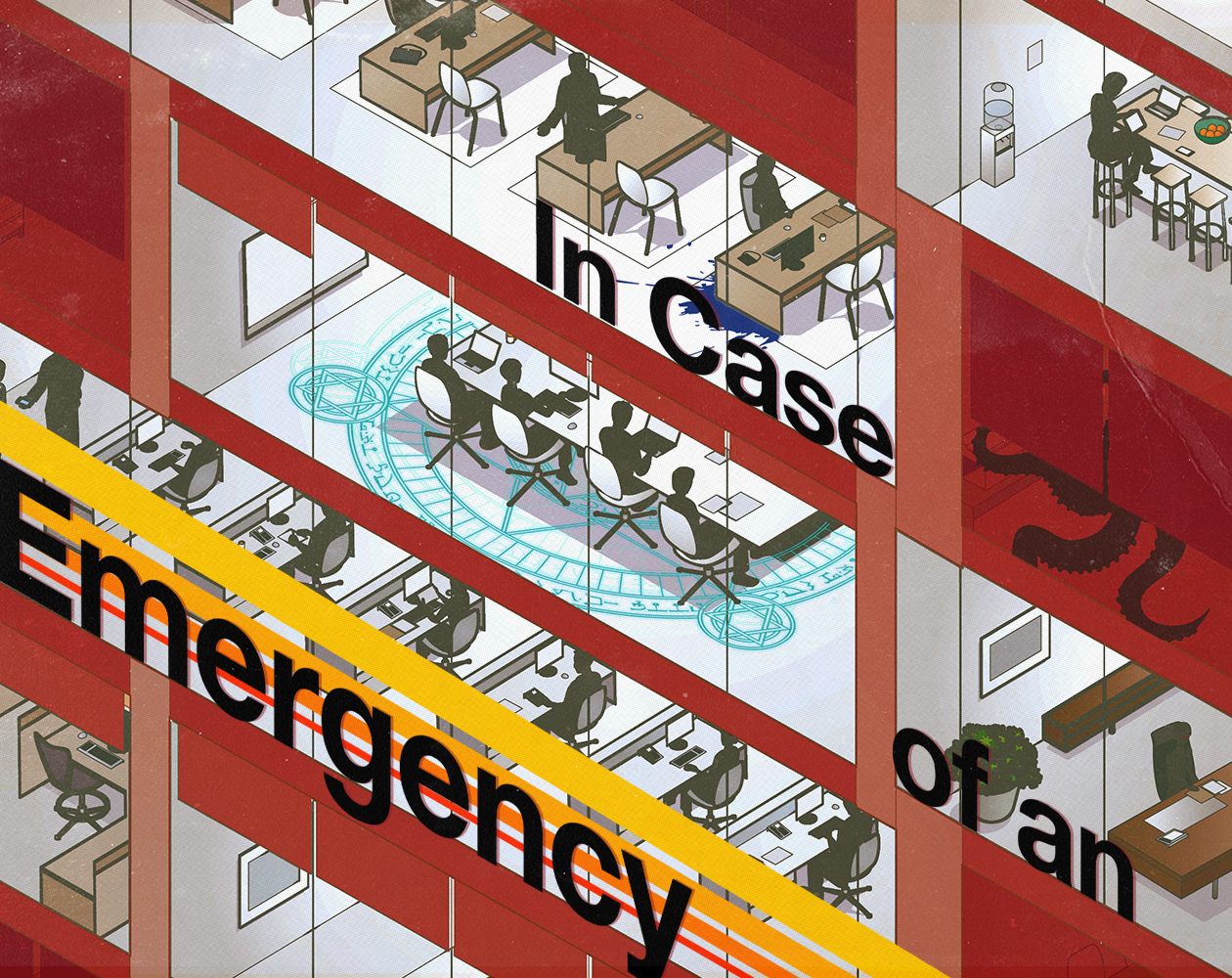 In Case of an Emergency
Original ruleset, written + designed by Colin Cummings

FROM THE CREATOR OF BOY PROBLEMS & BLACK HEART...

Inspired by Remedy's Control, and the internet's collaborative fiction project SCP, discover a new game that challenges you and your friends with the task of taking back or taking down your own place of employment.

You work at foundation., a global corporation known for its cutting edge inventions and morally dubious treatment of its labour force. It stays at the top of its field by exploiting the paranormal and the metaphysical. Due to an "incident", you are now trapped inside. The glitch causes you and a group of your co-workers to be tasked by a group known as THE SHAREHOLDERS to fix what has broken, and solve THE EMERGENCY.

The Head Office is an ever-shifting office complex that threatens to trap your intrepid group within its labyrinthine walls. Fable and superstition come alive and threaten your very life. Gain new abilities (ABSTRACTIONS) through exposure to the powers that lie beyond, investigate the truth behind foundation., traverse a place where new science is discovered daily, and cut through bureaucratic and literal binding red tape to escape and survive.

The future of your company, and your whole reality, lies in your hands.
Follow me on Twitter for updates.
Bonus! Coming soon and free for previous purchasers: Easy Print version
BONUS LINKS:


PRESS

Dicebreaker: In Case of an Emergency is a tabletop RPG inspired by reality-bending video game Control, and it's out now (by Matt Jarvis) - 06/8/2020
"Colin Cummings' In Case of an Emergency sees players take on the roles of employees of foundation. (yes, spelt with the full stop), a shady corporation with a chequered history and questionable ethics.
As the result of a mysterious "incident", the players' workers find themselves locked inside the building and tasked with solving "The Emergency" by an equally mysterious group called The Shareholders."
Kotaku AU: Control's Being Turned Into A Tabletop RPG By The Genius Behind The Carly Rae Jepsen Games (by Alex Walker) - 20/12/2019
"The combination of Carly Rae Jepsen and a tabletop RPG was one of the best bits of news this year, so before Christmas arrives I have the great pleasure of letting you know: the same creator has a new tabletop RPG on the way, based on one of the best games of the year."
PATCHES + UPDATES

01/8/2020: V1.0: - Colour & digital version released, includes character sheet & quick reference card

Purchase
In order to download this game you must purchase it at or above the minimum price of $10 USD. You will get access to the following files:
icoae_charactersheet_v1.0.pdf
110 kB
icoae_reference_v1.0.pdf
1 MB
icoae_rulebook_v1.0_digital.pdf
84 MB
Comments
Log in with itch.io to leave a comment.
Hi ! For curiosity, are there printed version of the game? thank you !
Sorry for my ignorance here. I see "2D6 required" above. Does that mean this game uses the 2d6 rpg system? Do I need those rules to run this or are the included rules documents all that's required?
It runs off my own custom rule system! You will need two 6-sided dice but you don't need any knowledge or reference material outside what is included here.
Any good suggestions or ideas on how to expand on the emergencies listed? Possible solutions and such to inspire us if we want to create our own?
Beautiful work :) can't wait to play it.
I find going through the SCP Archives great for inspiration! I also plan on adding some more in a future update, so keep an eye out!
I ran this game for seven (7!) players (+1 GM) at an outdoor RPG community meetup and it was great fun, even with the large group. Very improvisational kind of game, definitely not for everyone, but if you're the right type of roleplayer you'll completely love it. Highly recommend.
Played/ran an abbreviated version of this with 3 friends in a TRPG design community I'm part of. We had an absolute blast, and I'm looking forward to playing it again and making it spookier next time!
What options would i use to print a copy of the rule book to look like the copy in the photos on this page?
Any print place should be able to help out! They'll be able to print on half letter size and bind it for you. I go to my local Staples for good and cheap prints of my games.
Just a note, I have contacted a printshop and they told me they are not allowed to print the book because it has a copyright in it, unless they get a written permission from the creator.
Does the rulebook function as the GM's guide?
It does! The rulebook is for players (employees) and the Director (GM). The reference card is to help keep track of the main nouns and verbs within the game as well.